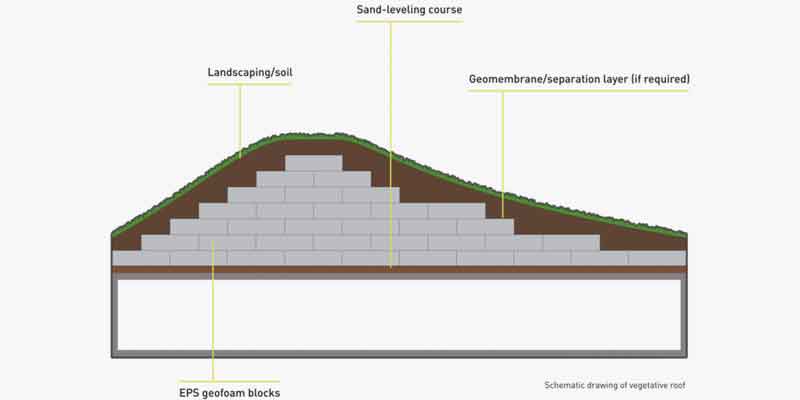 Geofoam is a multifunctional EPS filling solution that consists of customized EPS cut blocks used as lightweight void fillers that support highways, airport runways, bridges, parking lots, slabs, and landscaped areas. Geofoam Blocks for Landscaping or backfilling leads to substantial savings of concrete, unsuitable soils, or other landfilling material and significantly reduces the load on underlying compressible soils. Geofoam is also used as floor raising/insulation in villas, apartments, swimming pools, stadiums, etc.
EPS Geofoam is a superior extended polystyrene (EPS) fill material specifically designed for civil engineering and commercial building construction. Its remarkable strength to weight ratio makes it the ideal choice for absorbing heavy structural and mechanical loads and decreasing underlying soil stresses which in turn helps to stabilize roads, steep embankments, bridge abutments and sensitive below ground pipe work. It is likewise an exceptionally versatile material that can be effectively used as a quick and east cost saving technique for solid concrete work or weight reduction on foundations. Its uses are endless.
Landscaping has involved and has been literally elevated to new heights. To help achieve park-like settings in the most unlikely places, expanded polystyrene (EPS geofoam) or Geofoam is widely used to create the visions of landscape architects.
The lightweight attribute of eps geofoam helps bring outdoor lifestyle in rooftop applications.
We provide Geofoam Blocks for landscaping as per your requirements. Landscape architects are turning to Geofoam to create projects that were at one time unattainable.
Geofoam's lightweight qualities, the ease of use, the various sizes and densities make the applications almost endless.