20 YEARS OF
Manufacturing Experience
Higher quality products and services attract new customers.
Reduce hassle: one of the most common reasons people buy something new is that it makes it faster, easier, cheaper, or less frustrating to get something done.
Customers have a need, and they want to be certain that your product is the solution. So, as sales professionals, be specific about the benefits. More importantly, make sure to deliver on your promises.
provides material with technical test reports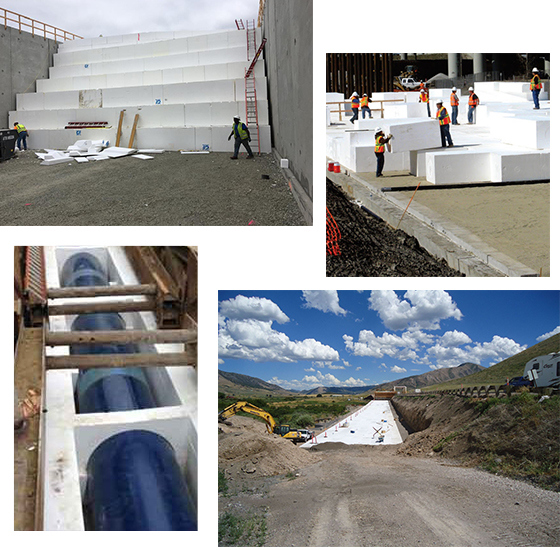 Besides being a lightweight alternative to soil, there are a number of benefits of using geofoam, including its ability to:
Reduce Labor & Accelerate construction
Be constructed in adverse weather
Be constructed and vertically faced in right-of-way scenarios
Eliminate the need for heavy earthmoving equipment
Provide overall project cost savings
Reduce later loads from being exerted on retaining structures
Help prevent slope failures
Eliminate the need for environmental permits
Here Is What Our Client's have to Say
Mr. Atul Shukla
Fortis Hospital, Noida
Building the work was very easy with the geofoam. We excavated the area and then put in the subbase and laid in the geofoam blocks by hand. "It was a great first experience with a very useful product.
Mr. Dheeraj Tyagi
Gold Plus Glass Industries
Geofoam was a tremendous success on this project and will be my first choice when facing difficult settlement situations in the future.
Mr. Naresh
Gaursons India
In any roof-deck renovation, it's critical to reduce the weight of the building materials because the building is only designed to support a maximum amount of weight and that can't be compromised.
Karthik Reddy
L&T Consutruction
It's been a pleasure working with you over the years. Geofoam has been stable and reliable in protecting our product, which is shipped domestically and internationally. Your team has been courteous and have always seen our order through to completion in a timely manner. We look forward to working with you in the future.
Experts Are Behind Everything We Do