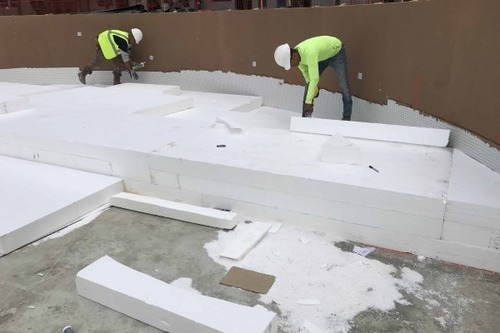 Raised floor systems are popular these days because of the exceptional benefits they provide to homeowners. Most engineers and architects choose to use EPS thermocol blocks as the base material for these foundations to better control the climate, level the floor, and create hidden space for mechanical and electrical ducts to pass through.
Also, if you want this for your facility, you can ask us for help at EPACK – we are a leading manufacturer of EPS thermocol blocks that are ideal for filling voids and raised floors. We have always been the number one choice for individuals and businesses for their construction needs requiring EPS solutions.
At EPACK we have worked and assisted in the construction of raised floors in most of the landmark projects such as Gaur City, Fortis Hospital, NKG Infrastructure, HCC Limited, and many more. We have used expanded polystyrene for the benefit of our customers by offering high-compressive strength materials and environmentally friendly materials with effective solutions for all their needs.
Here are some of the reasons why EPS thermocol is the ideal solution for floor raising:
Acceleration in Construction
EPS thermocol provides a raised floor over a concrete slab in a short period of time, which speeds up the construction time of the raised floor.
Save Energy
A good insulated raised floor can help your homes keep the coolness they need in hot weather. In addition, the cold floor in summer creates a comfortable walking surface.
Keeps Your Pipes in a Good Condition
Pipes are prone to cracking depending on weather conditions. Placing pipes or other cables inside your EPACK thermocol raised floor will help you keep it in good condition and therefore keep you out of trouble.
Light-Weight
The materials we will use to build your floor are extremely lightweight (95% air-containing), so they will not add any load to the existing building structure.
High-compressive Strength
Although EPS thermocol materials are lightweight, they certainly have high compressive strength to support heavy loads.
The power of EPS thermocol varies depending on its density. Compressive tensile strength improves as density increases. High-Density EPS thermocol is designed and manufactured to meet a variety of structural strength requirements.
Flexible in Design
We can cut, shape, and mold any design you have in mind. The EPS thermocol materials we use are malleable and flexible enough to take any shape.
Easy to Install
Because it is lightweight and flexible, less labour will be needed to install and complete the maintenance of the floor lift, and no heavy machinery/equipment is required, which speeds up the project completion time.
Cost-effective
Our materials and services are exceptionally economical compared to others. It can be quickly installed, which will reduce the overall cost of your project – we prioritize providing you with the type of service you need, doing our best to meet and exceed your expectations.
These advantages are the reasons why many people are currently considering EPACK thermocol raised floor systems in their institutions. And if you need to build it, EPACK will provide you with the strongest EPS thermocol materials to suit your needs.
Contact us at any time and we will be happy to help you.